Essential oil of basilica 20 ml– Céven'Arômes
Real Time:
5
Visitor right now
Essential oil of basilica 20 ml, made in France by Céven'Arômes.
Hurry up! Only
1
item(s) left in Stock!
Guaranteed safe checkout:
Essential oil of basilica  20 ml– Céven'Arômes   
Label H.E.B.B.D. - Huiles essentielles Botaniquement et Biochimiquement Définies
Antispasmodique très puissant, tonique digestif et hépatobiliaire.
Dénomination latine : Ocimum Basilicum
PROPRIÉTÉS
Originaire d'Inde, on la trouve désormais un peu partout. Feuilles et boutons sont distillés (à la vapeur) pour donner naissance à une huile très concentrée (on déconseille d'ailleurs de l'absorber pure par voie orale). Le basilic exotique, le plus fréquemment employé en aromathérapie, contient du méthyl chavicol. C'est une des huiles essentielles majeure en aromathérapie.
Cette huile essentielle est antibactérienne, antispasmodique puissante, un tonique digestif, un antalgique, un anti-inflammatoire. Décongestionnant hépatique, elle est recommandée pour soigner les douleurs et crampes d'estomac, les nausées, l'aérophagie, les flatulence, et les spasmes digestifs. En cas de contractions musculaires, mais aussi d'arthrite, de tendinite, ou de rhumatisme.. Sédative et calmante, elle peut aussi s'utiliser en cas de fatigue cérébrale et anxiété, d'insomnie. Elle est aussi indiquée pour dissoudre les graisses car elle a des propriétés lipolytiques.
Indications
Compte tenu de ces propriétés, on utilise généralement l'huile essentielle de basilic dans les cas de dysménorrées, de céphalées, de crampes et de contractions musculaires, d'arthrite, de rhumatisme, de spasmophilie, d'aérophagie, de spasmes digestifs...
Anti-infectieuse, antibactérienne, antispasmodique, anti-inflammatoire, fébrifuge, désodorisante aérienne, insectifuge (moustiques), renforce et stimule la fonction des glandes, anti-transpirant, positivante. Pathologies infectieuses et inflammatoires. Colite spasmodique, entérocolite infectieuse. Douleur pelviennes. Rhumatismes, arthrite.
Pour l'utilisation en voie cutanée, toujours diluer l'Huile Essentielle de Basilic dans une huile végétale.
Utilisation :
En cas de troubles du sommeil: Mettez 1 goutte sur un morceau de sucre 10mn avant le coucher.
Pour les Crampes d'estomac : 2 Gouttes sur un comprimé neutre 3 fois par jour avant les repas.
Exemple de recette : mélangée avec de l'huile essentielle de lavande et de marjolaine, l'huile essentielle de basilic donnera d'excellents résultats pour soulager les muscles douloureux et fatigués (à diluer bien sûr dans un volume au moins 5 fois supérieur d'huile végétale). A utiliser aussi dans un bain.
L'huile essentielle de basilic peut être utilisée en cuisine pour agrémenter vos salades (remplace le basilic frais dans une "tomate-mozzarella") ou parfumer un poisson à la vapeur.
Contre-indications
Prudence : cette huile essentielle est très puissante et peut être dangereuse car elle contient des oxydes (1,8-cinéole). Elle doit s'utiliser sous contrôle médical uniquement.  Attention à la lavande (Le mélange chimique « Lavande/Basilic » (à cause du GLYCOL)), même à faible dosage est dangereux.
Usage : externe (massage, diffusion, bain) . Tenir hors de portée des enfants. Ne pas administrer aux enfants de moins de 7 ans. Contre-indiquée durant la grossesse et l'allaitement et pour les bébés à cause de sa neurotoxicité et ses pouvoirs abortifs. Ne pas ingérer. Utilisation fortement déconseillée chez les personnes épileptiques.photo-sensibilisante . Ne pas utiliser pure sur la peau (HE irritante). Ne pas s'exposer aux UV après application sur la peau. N'utilisez jamais les huiles essentielles pures. A utiliser avec précaution. Tenez-les à l'écart des enfants et animaux.
CONSEILS
ATTENTION : Avant toute utilisation des huiles essentielles lire impérativement les précautions d'emploi que vous pourrez consulter sous "tout savoir sur les huiles essentielles". Seul un médecin est habilité à délivrer le traitement thérapeutique qui vous sera le plus adéquat.
Produit conditionné par notre fournisseur :
Par distillation et pression à froid.
www.comptoir-beaute-sante.com  décline toute responsabilité en cas d'accident, de lésion ou de préjudice subi par quiconque pratiquerait une automédication sur la base des informations contenues dans ce site.
CONDITIONNEMENT
 flacon compte-gouttes 20 ml
Customers who bought this product also bought: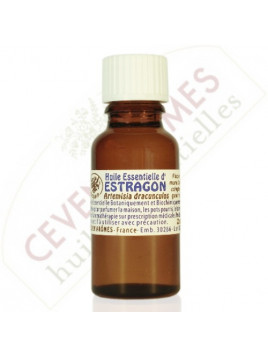 Price
Regular price
€9.95
€8.46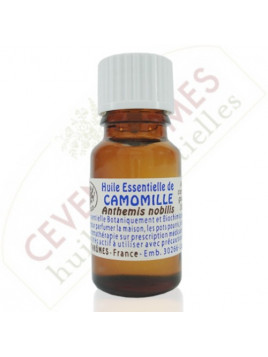 Price
Regular price
€22.50
€18.00
4 other products in the same category: