Customer Care
Call Us:

+33 (0)2 54 42 63 36
Home perfumes
What powers smells!
Able to revive memories buried deep in our childhood. The scent of thyme in the house, and it is the family walks in the scrub resurgent. Smells have the ability to become embedded in our memory and stay there.
From earliest childhood, each fragrance stores and builds its own code of perfumes. Also, to feel good, to create a peaceful and serene atmosphere, which is sweeter than to reappear scents that plunge us into delicious memories.
To make your home feel deliciously good and maintains a pleasant atmosphere, we offer a wide choice of aromatisateurs, air fresheners, essential oils, fragrance diffusers, scented beads and scented candles. ..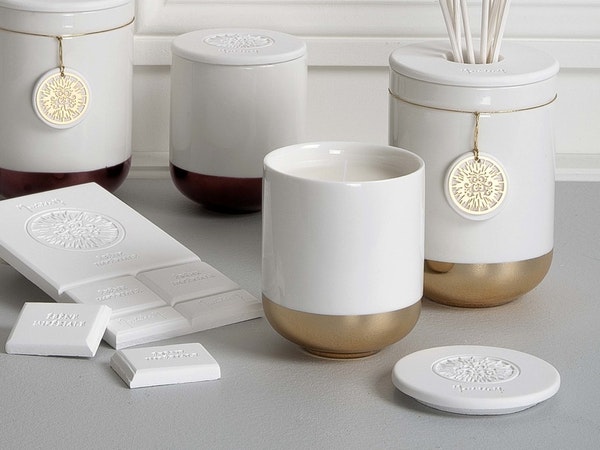 Christmas gifts idea, perfumed pouch in box by Atelier Catherine Masson!

Wardrobe spray, must for curtain....this is the home linen fragrance from french manufacturer Savonnerie de Bomes. Grasse perfume. ùade in France. New presentation.

Recharge of perfume for Aromatic rattan stick diffuser - Patchouli Vanilla - 250 ml - Savonnerie de Bormes

Home perfume Spray, fragrance Tea leaves by Atelier Catherine Masson, for perfume your home or activate the fragrance of pouches and sachets.

Home perfume In Provence by Atelier Catherine Masson.

Beautiful Symphony of scents deliciously put into harmony in the gift box designed by Catherine Masson.

This elegant red-black box contain one tea mug set with perfumed candle inside: roses and leaves frangrances.

Very nice idea for gift!  .

Scented room spray  with essential oils -lavander -olive - Savonnerie de Bormes

These Melting Pieces of Perfume are to be used with a fragrance burner.

This elegant perfume burner in fine porcelain, of matt white colour, is an essential item for air diffusion.