Melting fragrance myrrhessence - 90 g - Fariboles
Melting fragrance myrrhessence - Fariboles
Myrrhessence perfumed melting fragrance of Fariboles - 90 g
Fariboles melting fragrance diffuses its delicate perfume throughout your home. Its perfume intensifies as it melts en the heated dish of perfume burner. It solidifies again at room temperature and can be used several times for up to 4 hours.
This box contains a perfumes bar which can be broken into 9 pieces.
Myrrhessence fragrance:
A dark and mysterious perfume. The myrrh, symbol of the soul, softened by aldehydes and by flowers, heliotrope, rose and jasmine, liberates its resinous notes of incense and sandalwood in one mystical finale and scintillating.
You can buy the perfume burner in our shop here.
Natural wax, weight 90 gr. Made in France
Customers who bought this product also bought:
Gift idea for a sensual and elegant woman ... New edition of...
Price
€4.40
Regular price
€5.40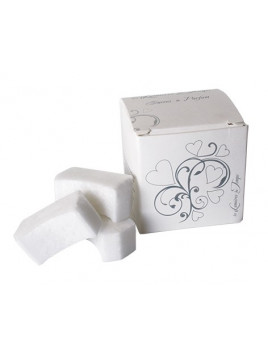 These Melting Pieces of Perfume are to be used with a...