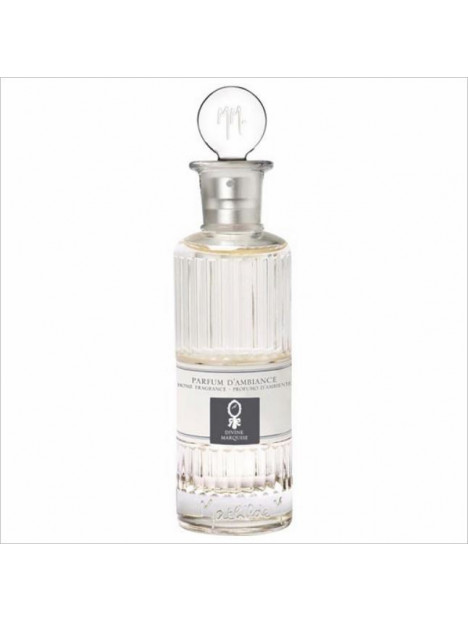 Room fragrance divine marquise - Mathilde M
Étoffe Soyeuse - Silky fabric perfume - enchanting and sophisticated, the marriage of fruity and floral notes, culminating i the sensuality of an oriental gourmet chord.

Made in France
Quick shipment

Payment secured and protected by using SSL (Secure Socket Layer) Protocol from CIC Bank
Fragrance: Divine Marquise.
Elegant and sensual, an addictive perfume with delicious spring notes, wrapped in a mesmerizing oriental accord of amber and patchouli. For all the Marquesas of modern times.
Olfactory family:
Top notes: Bergamot
Heart notes: Ylang, Praline
Base notes: Patchouli, Amber, Vanilla
The Perfume d'ambiance Mathilde M. perfumes instantly and a simple pressure is enough to create an ambiance.
The number of pressures must be adapted according to the dimensions of the piece to be perfumed and according to the desired fragrance intensity.
Like any perfume, the perfume of atmosphere vaporizes avoiding furniture, jewelry, furs or delicate fabrics.

Bottle 100 ml 
Reviews about this product

Show attestation
The best! The fact that I ordered from the U.S. and paid international shipping to get Mathilde M.'s Divine Marquise fragrance is proof! ;)
Data sheet
Home fragrances

Huile parfumée

fragrance

Divine marquise
16 other products in the same category: