On sale!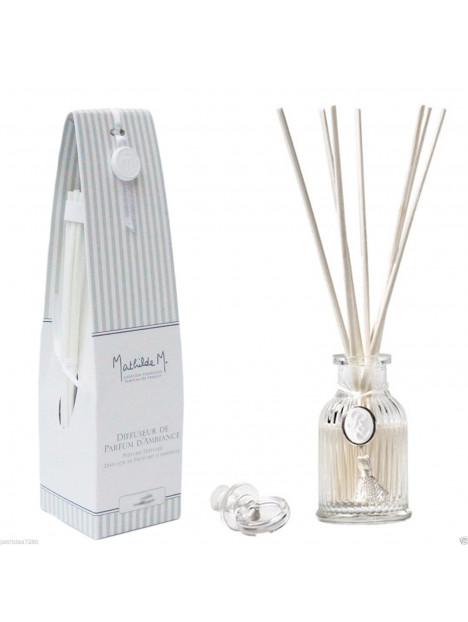 Fragrance diffuser - Amber heart - 40 ml - Mathilde M.
Room scents diffuser in elegant blown glass from french manufacturer Mathilde M.

Made in France
Quick shipment

Payment secured and protected by using SSL (Secure Socket Layer) Protocol from CIC Bank
Home fragrance diffuser - Amber's heart scent - 40 ml - Mathilde M.
This box includes an elegant blown glass bottle  with a refined pattern and 7 rattan sticks. Once the rattan sticksare put into the diffuser, they absorb the perfume by capillarity and disperse subtly the scent into the air. 
We recommend you to turn rattan sticks over every day for a better dispersal of the perfume. It is also suggested that you remplace the sticks every 3 weeks.
You can by in our shop also the refull of perfume and the sticks of change.
Amber's heart fragrance : Mystical and timeless, with amber representing love and happiness. Oriental notes to create a mystical and sensual perfume, giving a warm and generous atmosphere creating a feeling of cosy confort
Fragrance notes: top notes: bergamot - heart notes: vanilla - base notes: patchouli & lamdanum
40 ml - 1.33 fl.oz
Warning: hold away from any flame nor source of heat. Do not swallow or inhale. Can be galling for the skin and mucous membrane. Can provoce allergic reaction. Keep  away from children.
Data sheet
Home fragrances

Huile parfumée

fragrance

ambre

How to use

les recharges parfumées et remplacer de temps en temps quelques tiges de rotin. Produit inflammable, contenant de l'alcool. Ne pas exposer près d'une source de chaleur. Ne pas ingérer. Tenir hors de portée des enfants.
16 other products in the same category: