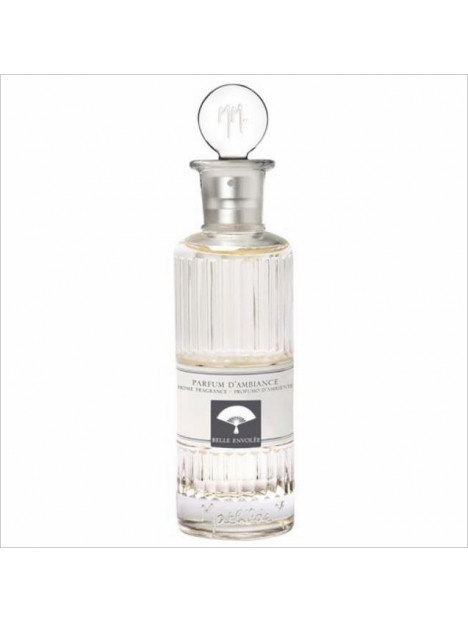 Room fragrance - Belle envolée - 100ml - Mathilde M
Europe from 3 days, other countries - from 5 days
A breath of spring, ushering in the sun. The new collection of Mathilde M. for home perfume.

Made in France
Quick shipment

Payment secured and protected by using SSL (Secure Socket Layer) Protocol from CIC Bank
Home perfume spray Belle envolée - 100 ml - Mathilde M. collections
New perfume of Mathilde M: Belle envolée:
Spring has sprung in Versailles. In and around the splendid gardens, flowers are bursting open, their sweet fragrance blendingwith the fresh, livelynotes from the sumptuous fountains. as an homage to the most poetic of seasons. Mathilde M. has designed a brand new, exquisite perfume...
Deliciously fruity, a sparkling fragrance that mingles the zesty freshness of grapefruit with soft , sublime jasmione and the invigorating notes of water flowers. A breath of spring, ushering in the sun.
head notes: mandarin, grapefruit
heart notes: water flowers, jasmine
found notes: precious wood, white musk

The Perfume d'ambiance Mathilde M. perfumes instantly and a simple pressure is enough to create an ambiance.
The number of pressures must be adapted according to the dimensions of the piece to be perfumed and according to the desired fragrance intensity.
Like any perfume, the perfume of atmosphere vaporizes avoiding furniture, jewelry, furs or delicate fabrics.
100ml
Made in France

Bottle 100 ml 
Data sheet
Home fragrances

Huile parfumée

fragrance

Belle envolée
16 other products in the same category:
Customers who bought this product also bought: