Home fragrance Delicate tamarisk - 50 ml - Balamata
BALAMATA In Camargue, lose yourself in the vast, unspoilt environment of this region which is home and sanctuary to an exceptional range of vegetation and wildlife.
Home fragrance - spray 50 ml - Delicate Tamarisk - Balamata in Camargue
At springtime in the Camargue, Tamarisk trees fill the air with their soft blossom. The fragrance blends with the scent of the hot sand ant its aromatic notes are enhanced by those of the surrounding flora. Close your eyes, you're in the Camargue.
Olfactif family : Amber and green blossom
Lead : Leaf green
 Heart notes: Tamarisk, ylang ylang, jasmine, rose
base notes : Amber, sandalwood, tamarisk


The spray permets to perfume immediatly your home

Glass bottle 50 ml. 

Made in France, Grasse perfume.
Do not spray towards a flame or sparks. Avoid contact with the eyes. Keep out of the reach of children. Do not drink the solution. Do not smoke while spraying
Without packading. 
Data sheet
Home fragrances

Huile parfumée

fragrance

parme

Volume

50ml

How to use

Spray d'ambiance: Vaporisez d'une ou plusieurs pressions, selon les dimensions de la pièce que vous parfumez, et l'intensité de parfum que vous désirez.

ORM-D contains alcohol

ORM-D limited quantity
Customers who bought this product also bought: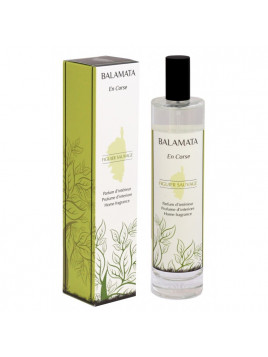 The afternoon are hot in Corsica villages and fig trees...
Price
€16.10
Regular price
€23.00