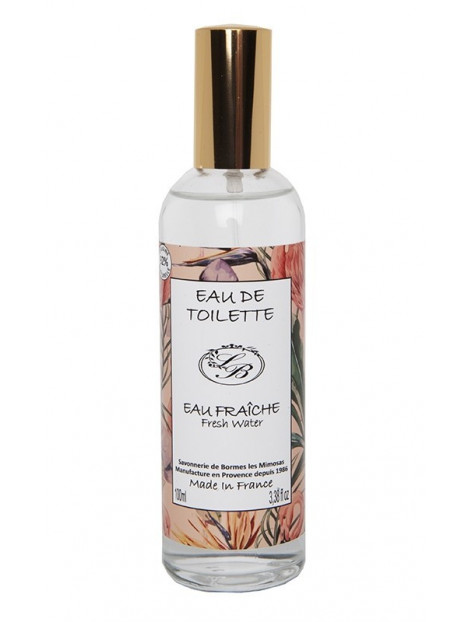 Eau de toilette - Fresh water - 100 ml - Savonnerie de Bormes
To make the sunny days come faster, two solutions: go on a whim to Mauritius or swap its winter perfume against fresh water. The second option seems easier, because we offer now a scented water that catapults you in the heart of summer.

Made in France
Quick shipment

Payment secured and protected by using SSL (Secure Socket Layer) Protocol from CIC Bank
New!
It is said that perfume and sun do not necessarily mix well ... The perfume could especially create stains and irritations on the skin in contact with the sun. Adverse effects that would be due to the transformation of certain species and substances (such as psoralens and its derivatives) that would become toxic to UV rays.
The fresh waters are then good alternatives, which avoid to know this kind of inconveniences while allowing to surf on the olfactory tendencies of the season.
So, discover our fresh Eau de Savonnerie de Bormes, a fragrance with hints of citrus, which will reach men, but also dynamic and sporty women.
100ml, without packading. Made in France by Savonnerie de Bormes
Contains: alcohol denat. 80%, aqua, parfum, anyse alcohol, coumaron
Data sheet
Cosmetics & perfume

Eau de Cologne

Volume

100 ml

How to use

Eau de toilette: tenir hors portée des enfants, facilement inflammable. Utiliser dans 12 mois.
16 other products in the same category: