Gift box home perfume Flower of Goatier - Verbena - Goa
Fleur of Goatier is a fragrance diffuser for your home.
Made in France

Quick shipment, free from 60€ for France

Payment secured and protected by using SSL (Secure Socket Layer) Protocol from CIC Bank

REWARDED NEWSLETTER - 10% discount from 39 € of purchases by registering - You may unsubscribe at any moment.
Fragrance verbena home diffiseur  Fleur de Goatier - Goa
Made in France
A simple, yet exceptionally long-lasting system: elegant and decorative, Fleur de Goatier is a fragrance diffuser for your house. Above all, however, it is so easy to use. Pour the perfume into the ceramic holder and insert the cord into the holder so that that the flower rests on the top.
Wait one day while the fragrance is released. You can revive your  flower after some time bu using a Goa fragrance refill or remplace the flower if you decide to use a new fragrance. The colous change in line with a number of criteria: for exemple the temperature of the room. Despite every care taken in manufacturing the ceramic container, it may become porous.
Do not, place it on wooden or plastic furniture or on delicate surfaces.
May cause an allergic skin reaction. Highly flammable liquid and vapour. Keep away from heat, sparks, open flames, hor surfaces.
No smoking, keep out of reach of children.
Gift box contains:  
200ml. - 6.8 fl.oz. fragrance

flower for diffuser, white vegetal rose, d=11cm

ceramic holder, white colour, d=12cm

size of box 33x15x7 cm

Data sheet
Home fragrances

Huile parfumée

fragrance

verbena

Volume

200ml

ORM-D contains alcohol

ORM-D limited quantity
3 other products in the same category:
Price
€14.40
Regular price
€16.00
0 Review(s)&nbsp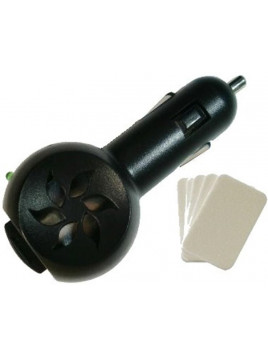 0 Review(s)&nbsp
Price
€48.45
Regular price
€57.00
0 Review(s)&nbsp
Customers who bought this product also bought: