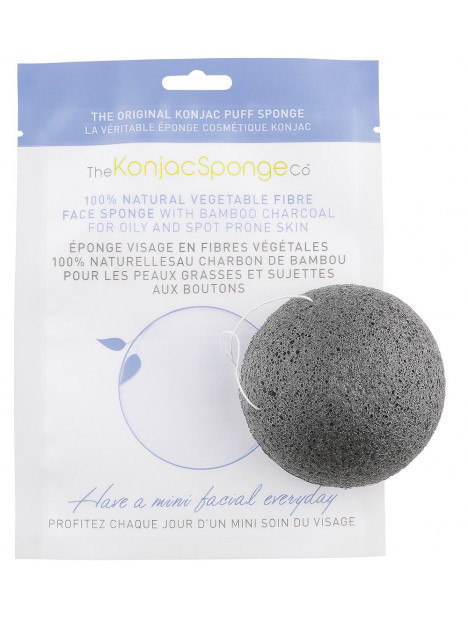 Facial puff sponge 100% pur Konjac with bamboo charcoal - oily & spot prone skin - Konjac Sponge Co.
 The Konjac Sponge is natures enriching, yet powerfully effective answer to premium skin cleansing. Developped by the Japanese who have harmessed the power and benefits of the Konjac plant for centuries.

Made in France
Quick shipment

Payment secured and protected by using SSL (Secure Socket Layer) Protocol from CIC Bank
Facial natural sponge - 100 % pur with bamboo charcoal for oily and spot prone skin
Packed with mineral rich activated carbon, our Konjac Sponge with Bamboo Charcoal deep cleans skin pores to eliminate blackheads and dirt whilst absorbing excess oils and toxins. A natural antioxidant, it kills stubborn acne-causing bacteria and is an effective natural treatment for acne sufferers.
Approximately 8 cm wide, it fits perfectly in the palm of your hand for easy cleansing. Just add water for the ultimate in natural skin care.
TO USE:

1. Rinse & fully hydrate sponge prior to use.
2. Massage the skin in circular motions concentrating on delicate or problem areas. If desired, add a cleanser & the sponge will help it go further & work harder. Alternatively, use the sponge alone & experience the sponge's unique revitalizing properties.
3. Rinse sponge well after use, squeeze out excess water (never twist or wring), before hanging or placing to dry in an airy or warm dry place (can also be stored in pouch in a refrigerator, or placed on a heated towel rail).
4. Use morning & or evening.
5. Depending on the care, the sponge can last up to 3 months. Dispose of when damaged or worn (can be composted). Never use a dry sponge on the skin.
The Baby & Child Sponge Range - Suitable from Newborn. Simply use to cleanse delicate skin. Rinse after use and allow sponge to dry, as above. In the unlikely event of irritation, discontinue use.
This is not a toy; never leave a child unattended with the sponge. Please retain packaging for future reference.
Benefits:
Ideal for oily, teen and blemish prone skin
pH balanced
Gently Exfoliates
Deeply Cleanses
Refines Pores
Cleanses and Exfoliates the Delicate Eye Area
Removes Water Based Make-Up
Use With or Without Cleanser
Leaves Skin Radiant & Rejuvenated
Suitable for Sensitive Skin
100% Natural, Colouring & Additive Free
Silky Soft When Wet
Certified Vegan
Data sheet
Cosmetics & perfume

Soin visage

Type of skin

oily skin

Label

Cruelty free
15 other products in the same category: