Home fragrance diffuseur Perle - Marquise - 100 ml - Mathilde M
This refined and elegant diffuser with reed sticks holds a  Mathilde M. Room fragrance refill in its heart. Will continuously fragrance your home for several weeks.
Violet Pearl Ceramic Fragrance Diffuser - Marquise - 100ml - Mathilde M
Very beautiful decorative object, which will perfume your home continuously by capillarity.
Perfume diffuser ceramic quality, openwork. Advantage of this diffuser, you can use the refills of different scents, because the refill bottle is placed inside the diffuser entirely.
Scent Marquise
Top notes: cedar wood and precious wood
Heart notes: rockrose, white musk and spices
Base notes: ambergris and vanilla pod
Diffuser color: dark violet
Presentation packaging: pretty cardboard box
Material: ceramic and perfume
Diffuser dimensions: 8.3 x 8.3 x 26 cm with the rods
Bottle capacity of refill: 100 ml
Rattan stems: 9 white stems size 25 cm
Presentation box dimensions: 14 x 11.5 x 22.00 cm
Design & Perfume France
To refill your diffuser you can buy in our shop a perfume refill 200 ml bottle and rattan rods. Perfume continuously for several weeks.
Julie's word: very nice gift idea for a woman. I particularly appreciated this fragrance, very sweet and warm, and the quality and duration of perfume continuously.
16 other products in the same category: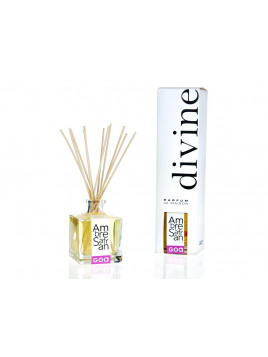 Customers who bought this product also bought: