Aromatic Bunch - White musc - 100 ml - Les Lumières du Temps
This perfume diffuser Aromatic Bunch will diffuse fresh, delicate, or intense notes according to the perfume of your choice.
Perfume diffuseur Aromatic bunch - White musc fragrance - 100 ml - Les Lumières du Temps 
The rattan sticks absorb the perfume by capillary action and then slowly release the delicate scent for 8 to 10 weeks. You can alter the intensity of the perfume diffused by turning the sticks from time to time. After a few weeks, you can fill the bottle with the Perfume Refill for Aromatic Bunch and replace a few rattan sticks.
Universal, discrete, the Aromatic Bunch can be placed anywhere to make your home pleasant and fragrant.
Use and keep away from any naked flame or source of heat. Do not smoke while handing this product. Keep out of reach of children. Only use as indicated. Not drink.
Ingredients: alcohool, water, fragrance.
Glass bottle 100 ml with 9 rattan sticks. Presented in craft paper box.
French hand crafted creation.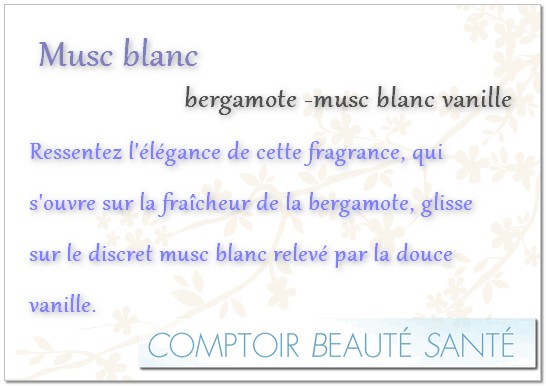 Data sheet
Home fragrances

Huile parfumée

fragrance

white musc

Volume

100 ml

How to use

les recharges parfumées et remplacer de temps en temps quelques tiges de rotin. Produit inflammable, contenant de l'alcool. Ne pas exposer près d'une source de chaleur. Ne pas ingérer. Tenir hors de portée des enfants.

ORM-D contains alcohol

ORM-D limited quantity
Customers who bought this product also bought:
A feminine gift box imbued with precious fragrances. Let a...
Price
€10.63
Regular price
€12.50